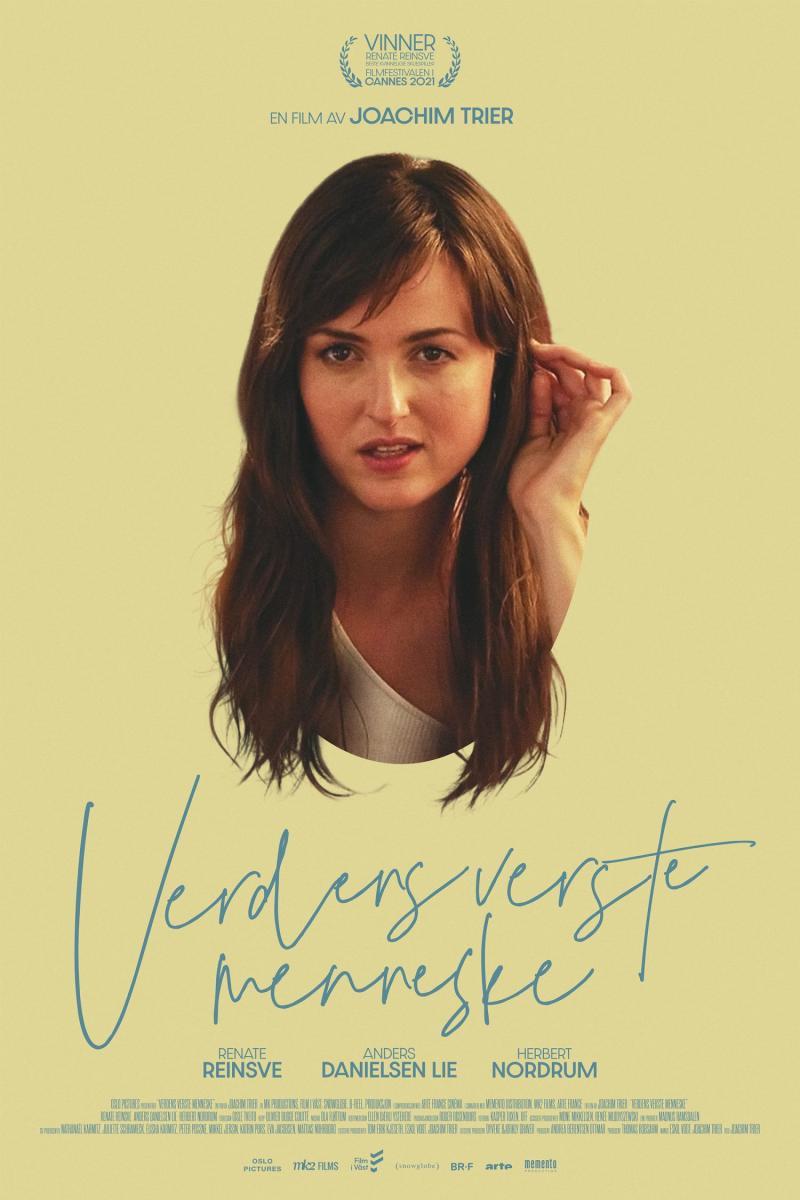 Currently playing on subtitled screens in the States after making a splash at Cannes last year, The Worst Person in the World opens on an effortlessly beautiful woman standing in profile against the Oslo skyline, smoking a cigarette outside a book launch. The film comprises such stunning visuals of the Scandinavian atmosphere, including a triptych of vignettes that pull focus from star Renate Reinsve's beguilingly wholesome face toward a backdrop of moody skies, but also pays homage to Northern Europe's literary traditions through its heroine's day job.
The narrator explains how Julie went from medical student to trainee psychiatrist to amateur photographer in rapid succession, securing a temp job at a bookstore as her fallback. Borrowing the bookish structure of chapters, prologue, and epilogue, the film follows this thirty-ish woman adrift in central Oslo. Julie shrugs off a question about the temporal status of her employment, which seems to gain permanence as the plot unravels, becoming her most consistent attribute throughout the four years covered by the film.
The bookstore, Norli, is a real-life Norwegian chain with five locations in Oslo alone. Julie's branch, "near the university," is known as Universitetsgata (@norliuniversitetsgata). Her uniform is a navy polo with white letters on the back declaring "Jeg hjelper deg gjerne!" ("I'm happy to help you!"). The employee discount may be to blame for Julie's accidental hoarding of books. "I have two copies of a book," she incredulously tells her boyfriend, the wonderfully Nordic-named Aksel, as she rearranges a bookcase that also includes such English-language titles as The White Album and Portnoy's Complaint. "Can I have two shelves?" she asks.
Within the context of her bookstore job, Julie is equally absentminded, knocking over multiple stacks of books and holding several life-changing personal conversations, all while on the clock. Yet a bookshop is the perfect setting for such chance encounters, the intersection of ideas and culture serving as a waystation where old friends and new loves can wander freely. This affection toward bricks-and-mortar stores gets grounded in practical commerce when Julie regretfully informs a customer that it will take two weeks to order a copy of Green Yoga.
In one poignant scene with Aksel, Julie listens patiently as he laments the loss of Gen-X tactility: "I grew up in a time when culture was passed along through objects," he says. A dozen years older than Julie, Aksel is a comic book artist with fond memories of hanging out in record stores, an experience he implies her generation will never understand. "They were interesting because we could live among them. We could pick them up, hold them in our hands, compare them."
In his waxing nostalgic about the digital shift, Aksel has forgotten that Julie can relate through that timeless artifact that constructs her workaday life. Now an aspiring writer who has had some success with a viral article, she nevertheless knows a little something about object permanence within a culture. Julie smiles dolefully, but not without sympathy, and asks: "A bit like books?"